Winter weather can be hard on your roof, so it's important to make sure it is properly maintained during this time of year. Taking the time to do regular roof maintenance in the winter can save you from costly repairs or replacements down the road. In this blog post, we'll provide you with five tips for maintaining your roof during the winter season. From checking for damage to scheduling professional roof inspections, these five tips will help ensure that your roof remains in optimal condition throughout the winter.
1) Clean Your Gutters
Keeping your gutters clean is an important part of roof maintenance during the winter months. When gutters are clogged with debris, it can cause rainwater and melting snow to back up on the roof, leading to leaks and other damage. To keep your gutters functioning properly, make sure you clear them of leaves, sticks, and any other debris that has accumulated. You should also check for cracks or signs of wear and tear, and if needed, have them repaired or replaced by a roofing contractor. This will help ensure that water is able to flow freely away from your home and that your roof is protected from any damage.
2) Inspect Your Roof
It's important to inspect your roof at least twice a year, and winter is the perfect time. Before the winter weather hits, it's essential to check for any missing shingles, broken tiles, or other damage that could be caused by the cold temperatures. If you don't have experience inspecting your roof yourself, hiring a roofing contractor can be a great idea. A professional roofing contractor will have the experience and expertise necessary to detect any potential issues before they become major problems. They can also provide advice on how to protect your roof from the harsh winter weather.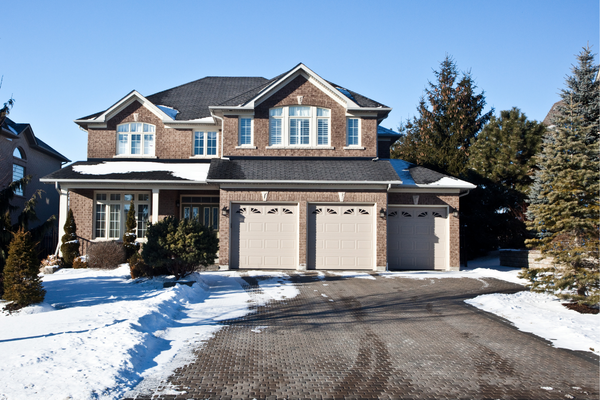 3) Remove Debris From Your Roof
One of the most important steps to maintaining your roof during winter is to remove any debris that may have accumulated on it. Fallen leaves, twigs, and other items can clog up gutters and cause damage to the roof. To prevent this from happening, it's important to periodically inspect your roof for any debris.
If you notice any debris on your roof, it's important to take action immediately. You should always be careful when removing debris yourself, as climbing on the roof can be dangerous. If you don't feel comfortable doing this, it's best to hire a roofing contractor who has the proper safety equipment and experience. A professional contractor can also inspect the roof for any potential issues, such as loose shingles or missing flashing. Once the debris has been removed, you can then move on to inspecting and maintaining the other parts of your roof.
4) Trim Trees Near Your Roof
Winter weather can cause trees to rub against your roof and cause damage. To avoid any unnecessary wear, it's important to keep trees trimmed and away from your roof. If you have large trees near your house, it's a good idea to hire a roofing contractor to inspect your roof and trim back any trees that may be threatening the integrity of your roof. The roofing contractor will be able to identify areas of concern and assess any damage that may have already been caused by the trees. By having your roof inspected before winter, you can prevent further damage and extend the life of your roof.
5) Cover any Exposed Pipes
When it comes to keeping your roof in top condition, it's important to make sure any exposed pipes are properly covered. During the winter months, unprotected pipes can freeze and burst due to the cold temperatures. In addition to this, snow or ice can build up around the pipes, leading to further damage.
To ensure your pipes are properly covered, you should call in a professional roofing contractor. They will be able to fit covers over the pipes and seal them, protecting them from the winter elements. If you have multiple pipes, it's important to make sure all of them are covered by a professional. This will save you money in the long run, as it will prevent costly repairs down the line.
By covering any exposed pipes, you can ensure your roof remains in top condition throughout the winter months. Make sure to contact a professional roofing contractor to take care of any exposed pipes and give yourself peace of mind.