For property owners, the roof of your building is one of the most important investments you can make. Commercial roofing plays a major role in protecting your property and ensuring it lasts for years to come. That's why it's important to know some basic facts about commercial roofing before you make any decisions. In this blog post, we'll be looking at 7 commercial roofing facts every property owner must know.
1.) Commercial Roofs Are Not Maintenance-Free
Despite what many property owners may think, commercial roofs are not maintenance-free. Just like residential roofs, commercial roofs require regular upkeep to keep them in good condition and extend their lifespan. Without proper care, these roofs can quickly suffer from damage due to wear and tear, as well as exposure to severe weather conditions.
A roofing contractor should inspect the roof every year and make repairs as needed to prevent further damage. This will help ensure the roof is performing properly and that it lasts as long as possible. Business owners should also take steps to maintain the roof, such as removing debris, cleaning gutters and downspouts, and checking for any signs of damage. Regular maintenance can save property owners thousands of dollars in costly repairs down the road.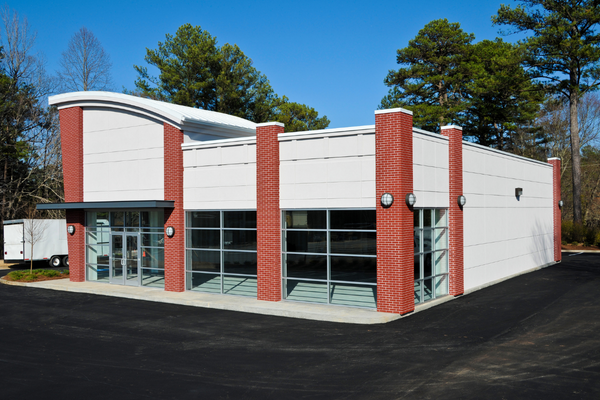 2.) The Lifespan of the Commercial Roof Depends on the Materials Used
As a business owner, it's important to understand that the lifespan of your commercial roof will depend on the materials used. Roofing contractors typically use materials such as metal, single-ply membrane, and asphalt shingles to construct commercial roofs. Depending on the type of material used, a commercial roof can last anywhere from 10-50 years. Metal roofs are often the most durable, lasting up to 50 years, while asphalt shingle roofs are less durable and need to be replaced every 15-20 years. It's important to consult with a professional roofing contractor before making a decision so they can determine which material is best suited for your business's particular needs.
3.) Commercial Roofs Are Often Exposed to Extreme Weather Conditions
High winds, hail, and heavy snow can wreak havoc on the structure and materials of a commercial roof. In order to keep your business protected, it is important to have regular maintenance and inspections completed by a qualified roofing contractor. A professional roofer can identify any potential risks or weaknesses and repair them before the damage becomes more serious. Business owners should also be aware of their local weather forecast and take any necessary precautions when severe weather is in the area. Having an experienced roofing contractor on your side can provide peace of mind and help ensure that your business is fully protected against potential storm damage.
4.) Commercial Roofs Are Subject to Different Commercial Codes Than Residential Roofs
When it comes to roofing, property owners should know that commercial roofing is subject to different building codes than residential roofing. This means that the business owner should be sure to hire an experienced and knowledgeable roofing contractor who is familiar with these codes when planning their commercial roofing project.
Commercial building codes usually require that the roofing contractor provide a higher level of installation quality and use materials that are more durable and water-resistant than those used in residential roofing. For example, metal roofs are often preferred for commercial buildings because they offer superior durability and fire resistance. Business owners should also be aware that the pitch of a commercial roof must meet certain standards in order to achieve the desired levels of water-resistance.
5.) Commercial Roofs Are Usually Larger Than Residential Roofs
This is an important fact for any business owner to consider when looking into roofing options. Commercial roofing projects require larger surface areas to be covered, and this requires more materials and labor. For this reason, it is essential to hire a professional roofing contractor that has the experience and expertise to handle commercial roofs.
A professional roofing contractor will have the knowledge and experience needed to properly install and maintain your commercial roof. They will also have access to the latest in roofing technology and materials, allowing them to make sure that your commercial roof is up-to-date with current regulations. This helps to ensure the longevity of your commercial roof, as well as protecting your business from the elements.
6.) Commercial Roofs Require More Insulation Than Residential Roofs
When it comes to commercial roofing, insulation plays an important role in protecting a business owner's property. Business owners must consider the different insulation requirements when they are looking to replace or repair their commercial roof. Commercial roofs require more insulation than residential roofs because of the greater surface area and heavier loads that they bear. A qualified roofing contractor can help business owners select the right insulation for their particular commercial roofing needs.
The most important factor when selecting the right insulation is its R-value, which measures its ability to resist heat flow. Higher R-values generally equate to better insulation, which is why commercial roofs usually require higher R-values than residential roofs. Other important factors that should be considered include durability, fire resistance, sound control, and moisture control. Insulation also helps maintain a consistent temperature inside the building, which can help save money on energy bills.
By working with a reputable roofing contractor, business owners can ensure that their commercial roof has the correct amount of insulation for their particular needs. The right amount of insulation will help protect the building from severe weather conditions and provide the necessary comfort levels throughout the year.
7.) Commercial Roofs Can Be Recycled
For those business owners who are looking for ways to reduce their environmental footprint, roofing recycling is an excellent option. With proper planning and the help of a roofing contractor, many types of roofing materials can be recycled and reused in other construction projects. It's important to remember that roofing materials are made of some type of natural material, such as wood, metal, or even asphalt. Recycling these materials helps reduce landfill waste while providing businesses with a more sustainable option.
Roofing recycling is not a one-size-fits-all solution, however. It's important to speak with your roofing contractor to discuss the best possible recycling options for your specific needs. Depending on the materials used, it may be possible to dismantle the existing roof, remove the necessary components, and reuse them in another structure. It's also possible to recycle asphalt shingles into new asphalt pavement, which can be used in highways, driveways, and parking lots.
Ultimately, roofing recycling provides a great way for businesses to reduce their environmental footprint while still taking advantage of the benefits of a quality roof. Speak with your local roofing contractor today to learn more about how you can recycle your commercial roof and make a difference in the world.